Today's retailers are faced with a major challenge: logistics. Consumer demands, increased competition, a sometimes unpredictable environment and the need to be proactive: professionals, particularly in the textile industry, face challenges every day.
We know that to meet the demands of increasingly volatile customers, certain points are essential.
Product variety and availability, on-time delivery, quality of follow-up and after-sales service, restocking… at TopTex, we're aware that these points are decisive for you and for your end customers.
That's why our teams are committed to providing you with the best possible service, through rigorous management, innovative services and, above all, a constant drive to improve our processes. This particular focus on logistics is a major factor in making TopTex the European leader in customisable textiles for professionals. 
Much more than just supply, our logistics are carefully orchestrated at every stage of the cycle to maximise efficiency and minimise delays. Because the most important thing for us is your satisfaction.
Head to our warehouses to get a behind-the-scenes look at logistics at a major textile distribution group.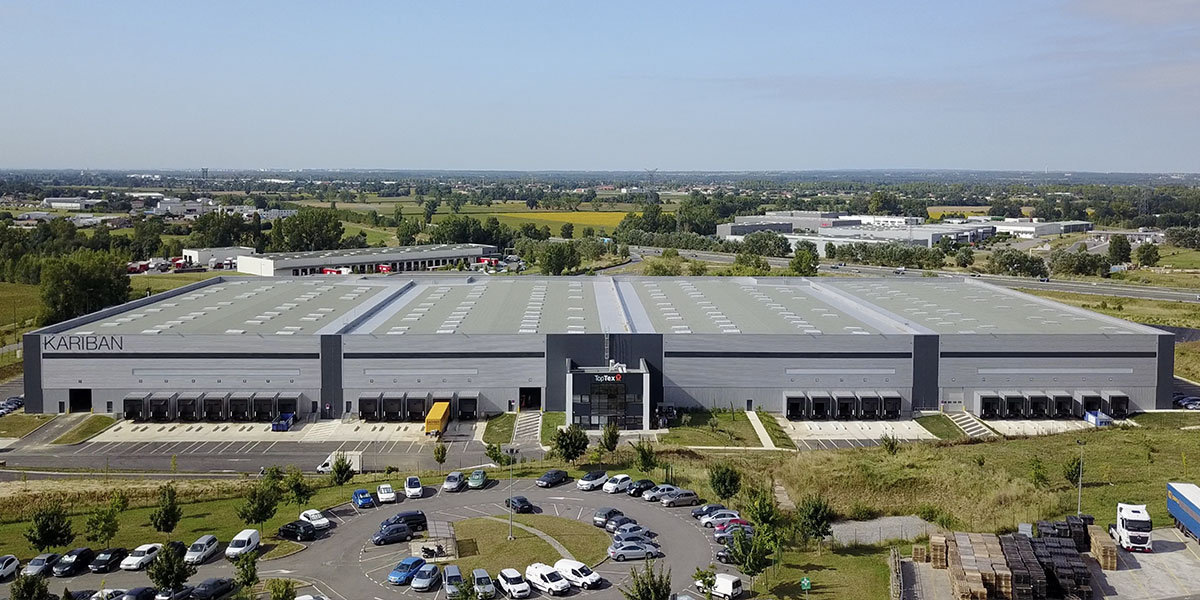 Logistics: a major challenge for our customers
Whether in France, Belgium, Italy, Spain or Portugal, every TopTex team is certain of this: logistics are a key element, for our customers as well as for us, and must therefore be one of our priorities.
Well-managed logistics operations are absolutely essential to guaranteeing the satisfaction of our customers and the success of their businesses.
And for us, efficient logistics means fast, reliable deliveries, transparent order tracking and prompt restocking, across a wide range of products, in a variety of sizes and colours.
We know that our customers rely on us to provide them with optimal logistics solutions, which is why we are committed to delivering a seamless experience at every stage of the shopping journey.
Our role is also to help our customers anticipate: major sporting events, contextual developments, new materials and colour trends. One of our missions is to be effective in preparing and planning for our customers' key moments.
Our aim is to prove to our customers that we are genuine partners, committed to their development and performance. And of course, to maintain our position as market leader, by providing ever more efficient services to our customers.
Our response? Performance and constant optimisation
To meet our customers' needs and offer them efficient solutions, our logistics model is based on several pillars:
selection, acceptance and rigorous control of product

quality

and

conformity
rigorous stock

management

order

preparation and dispatch

operation

planning and optimisation

transparent, efficient

order

tracking, right through to

returns

and

after-sales service
Of course, as well as stocking a wide range of more than 40 brands, we make sure that we offer new products on a regular basis. Our references are available in large stock quantities that are regularly updated. What's more, we have recently started offering our customers APIs, enabling them to obtain available quantities in real time, track orders and retrieve invoices, among other things.
Above all, we wanted to go even further: by increasing our storage area, as well as optimising our global supply chain!
Over 58,000 m² of storage space in Europe
The TopTex catalogue includes more than 2,800 items, stored in large quantities in two warehouses: the first has been located near Toulouse, in the South West of France, since 2017. 220 employees work on a 37,500 m² site!
Shortly afterwards, in 2018, we opened a second logistics platform in Belgium, totalling 21,000 m².
Locations designed to deliver as quickly as possible
It was essential for us to be able to respond quickly to our customers' orders. So the choice of two depots is not insignificant: it's what enables us to cover our distribution areas, 14 countries in all, in the best possible way.
The Toulouse depot covers the South of France, Spain, Italy and Portugal

while the Belgium depot serves the North zone, which includes Belgium, Germany and the Netherlands, among others.
Each warehouse has separate stocks, suited to the needs and expectations of each delivery country.
Semi-automated logistics platforms
Above all, we wanted to optimise as many logistics-related tasks as possible. The aim is to concentrate the efforts of our teams on high added-value assignments, while automating what can be automated.
Orders dispatched within 24 hours thanks to well-honed processes
These semi-automated platforms are at the heart of our logistics strategy. They enable us to implement and maintain a perfectly run process, in which each stage fits together perfectly to guarantee consistent performance.
The chain is semi-automated because we are aware that certain tasks need to be carried out by humans: of course, the parcel moves on its own within the depot, from the preparation area to the dispatch area. It also passes through a quality control area, where products are checked. However, an employee is present at each station (preparation, control and dispatch) to ensure compliance and smooth overall operations, thanks to a seamless system of organisation.
The right balance between technology and people! 
Thanks to these innovative processes and facilities, we can commit to delivering to our customers within 1 to 2 working days.
Shuttles leave every day from our warehouse, which serves the South zone (outside France), to take the parcels to the final delivery point. Shipment within 24 hours of placing the order, enabling our customers to receive their products very quickly: on the day the shuttle arrives in their country (Spain, Italy and Portugal) if they are in the same city, or within 24 hours if they are in a more distant final destination.
Let's look at a concrete example: we have an intermediate storage area in Barcelona, which enables us to deliver to our customers in and around Barcelona within a day of the shuttle's arrival. Otherwise, the delivery time will be 24 hours for a customer in the south of Spain, for example.
Even quicker: a collection service is available from our depot in Toulouse, so you can collect your parcel directly on the same day. TopTex teams are on hand to welcome customers and hand-deliver their parcels, thanks in particular to the order numbers, which are carefully marked on the parcels. 
Another very important point for us is that the infrastructure is modern and high-performance, designed to enable our teams to save time, be more efficient and more productive.
We know that logistics jobs are physical jobs, where comfort and safety are paramount. In our warehouses, the temperature is controlled and adjusted according to the season, to remain ideal even in hot, humid or cold weather.
When it comes to workwear, our employees are of course equipped in the best way possible: high-visibility reflective waistcoats, wind- and water-repellent jackets, sturdy safety shoes… we draw on our workwear styles to provide them with workwear that is appropriate, comfortable and safe.
TopTex logistics in figures
To sum up, here are some key figures about logistics at TopTex:
TopTex references over 2,800 products and more than 40 brands
5,000 parcels are dispatched every day from the French depot
900 parcels are dispatched every day from the Belgian depot
TopTex's distribution area covers a total of 14 countries
In total, more than 220 employees provide high-performance logistics in Europe
To sum up, we have made logistics one of the major pillars of our strategy: a customer-focused approach and efficient distribution. It is this winning combination that we have been committed to optimising as much as possible over the years.
We want to build a relationship of trust with our customers, which is why we do everything we can to meet their logistics needs.
We know that the availability and reception of the right products at the right time will be decisive factors for them. 
As a European group in customisable textiles, it's our duty to offer our customers choice, anticipation and responsiveness. It's a mission that drives all our teams throughout Europe! 
We are, and always will be, an ally to our customers. Our aim is to help them thrive in a constantly changing environment.