Have you heard about softshell jackets? The name softshell is used to describe a specific, extremely versatile and incredibly practical fabric. The ambition was to create a technical jacket that combines the advantages of fleece jackets with a water-repellent coating, while offering maximum comfort.
It's worth remembering that the word softshell points to effective but ergonomic protection, which remains breathable while protecting against bad weather. This technology was devised to meet the needs of sports enthusiasts, particularly those who enjoy activities such as hiking, ATB sports, trail and climbing.
The requirements of these outdoor sports were many and complex: the ideal clothing in this instance needed to adapt to different climatic conditions, such as insulating against the cold and rain, while allowing sweat to evaporate so that the garment did not stay damp. And, of course, it had to be supple to allow good freedom of movement. All this led to the invention of softshell in the early 21st century.
Today, softshell fabric is used to design various different types of clothing, such as gloves and trousers, but we are primarily referring to jackets when we talking about this technology. After convincing countless sports enthusiasts, softshell jackets entered the world of professional textiles: gardeners, tradesmen and other outdoor professions have fully adopted its comfort and performance.
So what is softshell exactly? How do you choose, decorate and maintain a softshell jacket? Read on!
Softshell: details and strengths
Softshell fabric is assembled from various layers that each bring a specific characteristic to the finished textile.
Between insulating against the cold and wind, breathability and water-repellent properties, softshell offers multi-layered and multifunctional protection, making it an all-in-one product highly prized by sports enthusiasts and professionals who want to be covered, but without being hampered.
Softshell technology also consists of reproducing the layering of clothes (like a jumper beneath an anorak, for example) in a single item, making it extremely practical.
Soft shell jackets are mostly made from polyester, which promotes quick drying. When it comes to suppleness and comfort, most styles also contain elastane. This material known for its elasticity gives garments their stretch and makes them particularly ergonomic. To sum up, softshell jackets are insulating, breathable and comfortable in a way that allows good freedom of movement. One more added benefit: the softness of the surface and the suppleness of the textile make it very pleasant to wear.
There are several types of softshell jackets, depending on the number of layers that make up the finished product: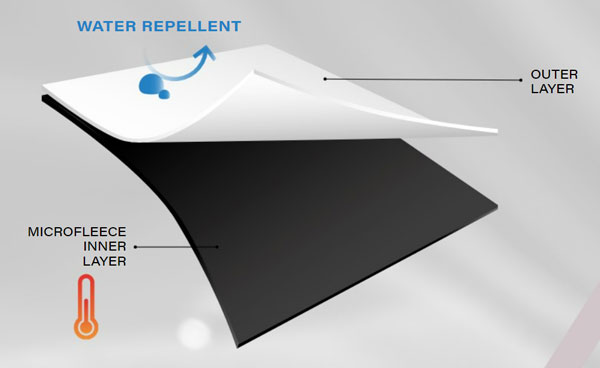 2-layer softshell
The first (inner) layer is made from micro-fleece to protect against the cold and wind, while the outer layer is water repellent. It protects against showers, without being completely waterproof.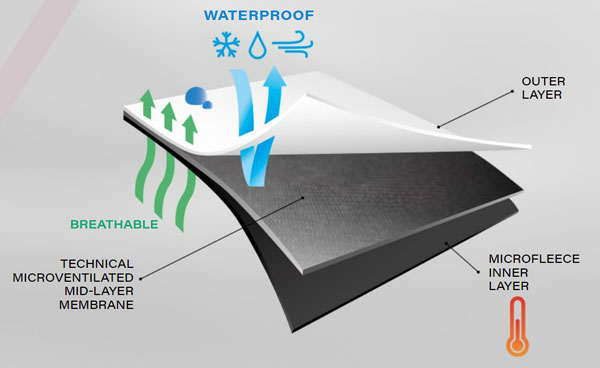 3-layer softshell
Also in this case, the first layer is made from micro-fleece, but with the addition of an intermediate membrane. It is micro-ventilated and results in a highly breathable fabric that allows air to circulate in the garment. Finally, the top outer layer is waterproof to 8,000 mm.
*NB: to measure the degree to which a garment is waterproof, it is placed beneath a column of water. The height at which the water passes through the fabric is recorded. In this case, waterproof to 8,000 mm means that softshell jackets offer good waterproofing against moderate showers. A good balance between breathability and protection!
The benefits of a 3-layer softshell jacket
a light wind breaker
water repellent against light to moderate showers
breathable, allows air to circulate
stretchy and ergonomic
The different types of softshell jackets and their uses
Softshell jackets are the perfect compromise between a warm jacket that is too heavy and a lightweight windbreaker. This mix means you won't be hampered by several layers of clothing that not only reduce mobility but also have to be carried once removed. When it comes to choosing the right softshell jacket, some features are indispensable:
Slim fit, perfectly matching the body and following its movements without restriction
Zip fastening, protected at the end so that it can be fastened to the top without pinching the neck
Side pockets, practical for sliding your hands in or storing small items such as a phone or barcode scanner.
Several styles are available to suit the season:

A bodywarmer or sleeveless vest will offer good freedom of movement and plenty of lightness, because the arms are exposed. Softshell jackets with a hood are also available to provide added protection against light rain. Finally, jackets without a hood would be perfect for cool but dry temperatures.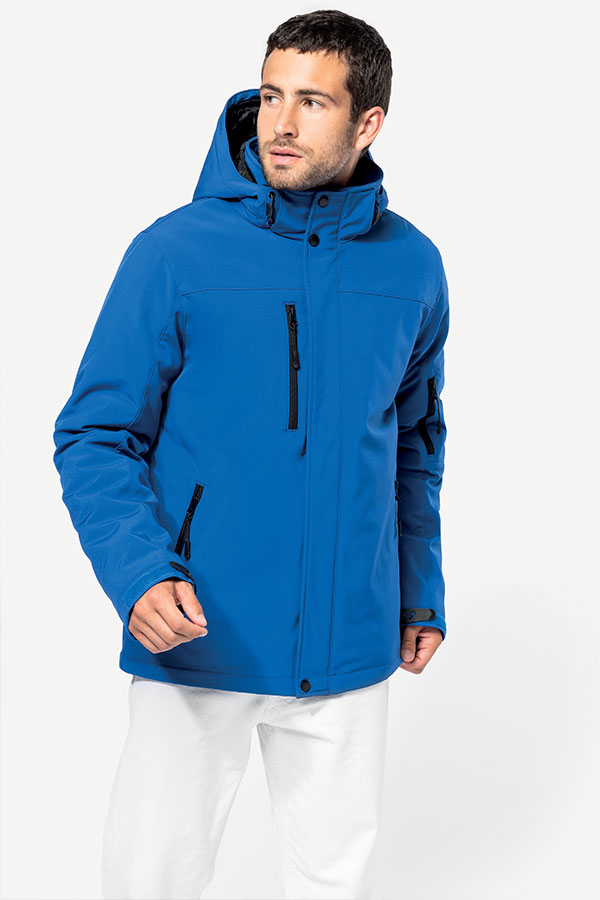 K650
Men's hooded softshell lined parka
Our selection for outdoor sports when the temperature drops
For skiing or hiking in the mountains, it would be advisable to look for a warm 3-layer style, such as this lined hooded softshell parka from Kariban (K650). Its high neck and hood provide excellent thermal insulation and, if it's really cold, this style can also be combined with an extra fleece jacket, such as Kariban's K911 style, to be worn under the parka.
Our selection for a long mid-season hike
For a walk in the forest or a hike in pleasant weather, Kariban's softshell body warmer for men (K403) or ladies (K404) is ideal.
It will keep you warm with its three layers while its sleeveless style makes it lighter to transport, an undeniable bonus for a long day of walking!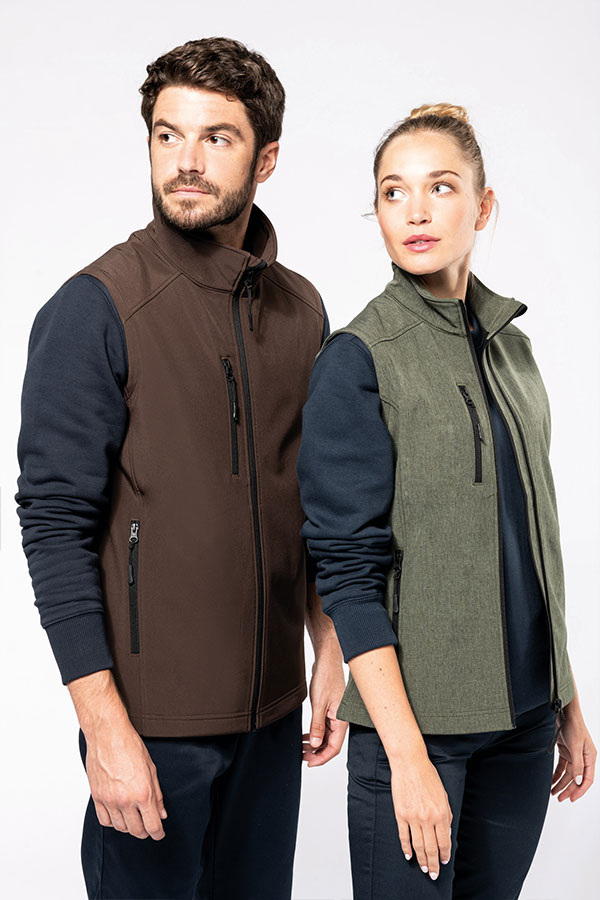 K404
Ladies' softshell bodywarmer
K403
Men's softshell bodywarmer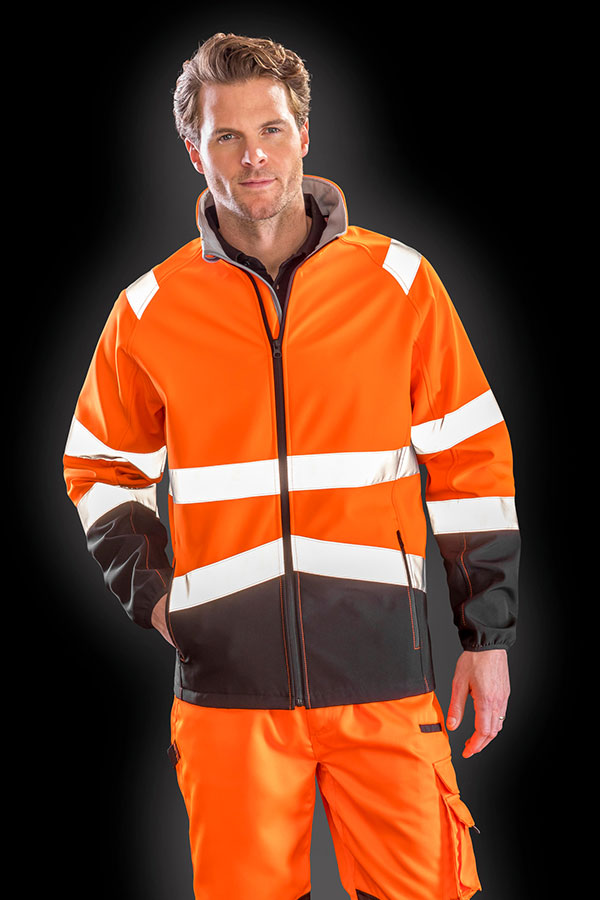 Our selection for a logistics, construction or security professional
Softshell technology can even be combined with reflective textiles. The proof comes in the form of this high-visibility softshell jacket from Result R450X, which is warm, light and economic. It is suitable for logistics professions that involve being visible when the light is poor, but without being hampered by a jacket that would be too bulky.
Our selection for outdoor professions (gardener, delivery operative, tradesperson, etc.)
Are you looking for the ideal jacket for people who work outdoors? Consider styles with several pockets, practical for storing a pen, wallet or notebook. A detachable hood can also be a bonus, as in the K413 from Kariban. This jacket can be worn over a polo shirt, for example, for a smarter and more conventional look, as in the case of a site manager, for example.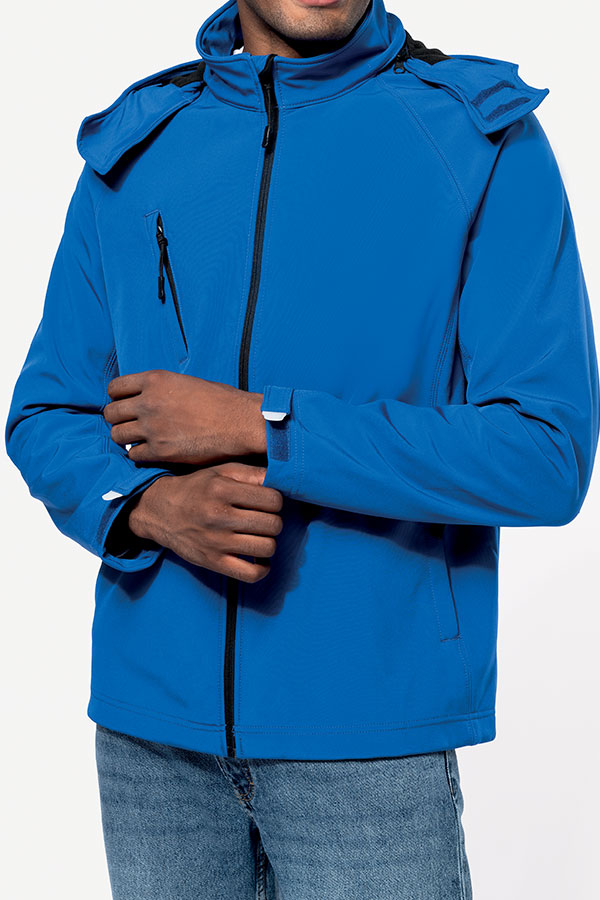 K413
Men's detachable hooded softshell jacket
The criteria for a good softshell jacket are
close fit
light fastening protected at the neck
side pockets
A few extra options
detachable hood and/or sleeves
high visibility
high neck and reinforced thermal insulation
made from recycled polyester
Looking after a softshell jacket
Whether in the worlds of sports or work, softshell jackets are often put through their paces: perspiration, bad weather, dirt, residue… This means they have to be looked after properly to preserve the effectiveness of the garment and its characteristics. Poor care may interfere with the jacket's water-repellent, breathable and insulating properties.
But be careful: softshell is a delicate fabric assembled from various layers, which means care recommendations have to be followed meticulously.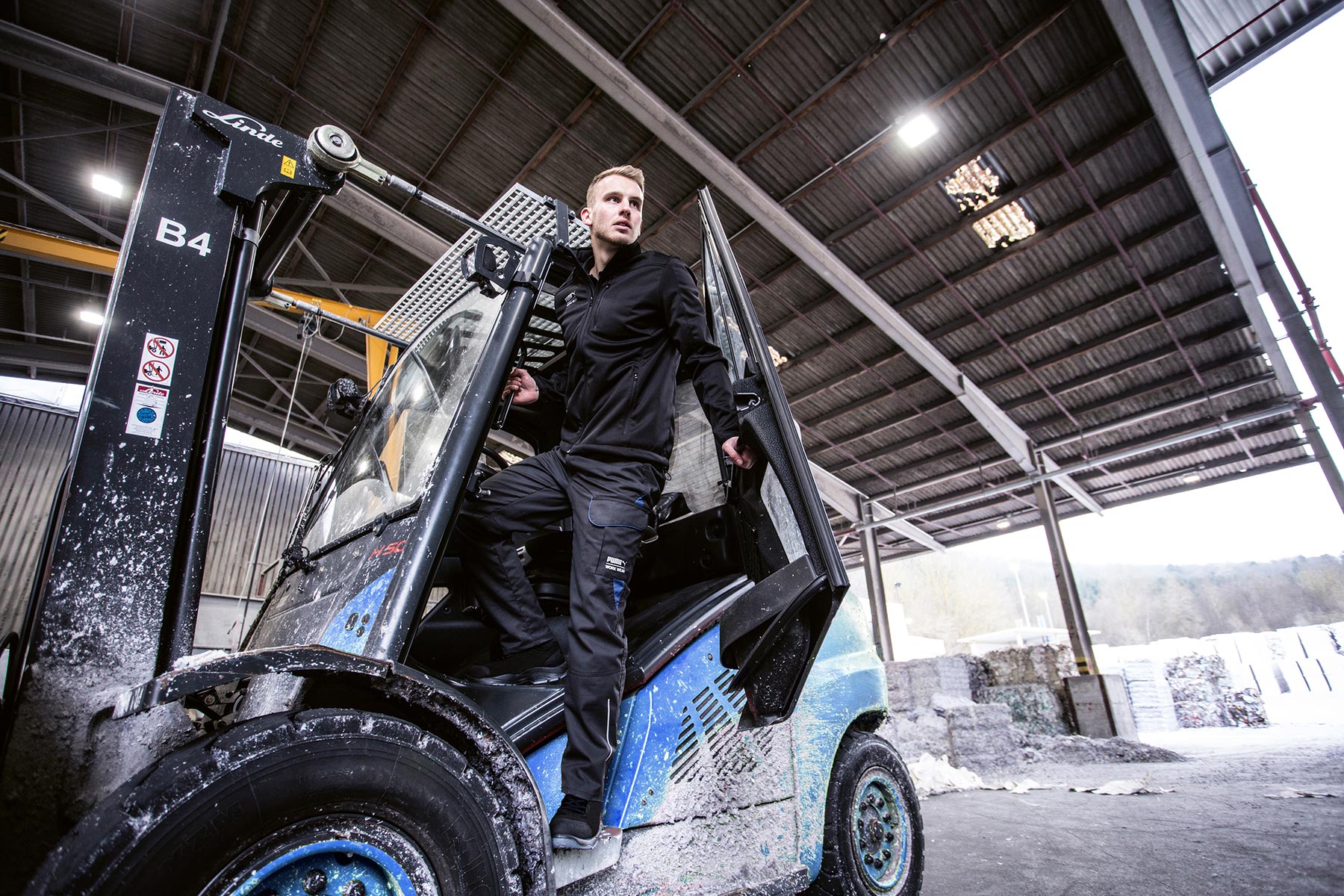 Regular maintenance after every use
We do not recommend washing your softshell jacket in the washing machine every week. On the other hand, to space out the washes, we highly recommend cleaning it by hand, with a slightly damp cloth, after each wearing. This will remove any residue that may have built up after a hike or a day at work (mud, dust, etc.) It should then be stored in a dry place to make sure any humidity in the air does not damage the fabrics.
Machine wash at 30° with a gentle detergent but without fabric softener
From time to time, a softshell jacket can be washed in the machine, provided a few precautions are taken. The jacket should be washed on its own, without any other garments to avoid friction with other fabrics, buttons or fastenings. Recommendations may vary between styles, but a maximum of 30° is always preferable for the wash, if possible on a delicates programme and with a very gentle detergent. Before washing, try to remember to turn the jacket inside out and close the zip fastenings. Fabric softeners, bleaching agents and stain removers, which may clog up the materials and damage their breathable and water-repellent features, should be avoided at all costs.
Air dry and waterproof the fabric
Finally, we recommend skipping the spin cycle and avoiding the tumble dryer, again to make sure you don't damage the softshell. Instead it would be better to air dry the garment and even better to do so on a hanger so that it can keep its shape.
Once washed and dried, you may want to apply a waterproofing spray to restore the water-repellent layer to full effectiveness.
In all cases, each style has a label with precise washing instructions that should be complied with in full to keep your softshell jacket soft, supple and effective!
Four steps to looking after a softshell jacket
Clean off impurities with a damp cloth after each wear
Machine wash from time to time (fastened and on its own), on a delicate programme, with a gentle detergent and no softener
Air dry on a coat hanger
Restore the fabric's waterproof properties once dry
Marking a softshell jacket: how and why
Despite being delicate garments, softshell jackets can still be decorated, as long as the right methods are used.
Here are a few things to take into account
Remember that softshell fabric is a fragile and stretchy assembly so you need to pay particular attention to the location of the marking and the technique used. Some personalisation machines can damage the garment to the point of making it unusable! Heat may make the fabric pigments in the motif migrate, altering the properties of the softshell. This irreversible migration is known as a bleeding.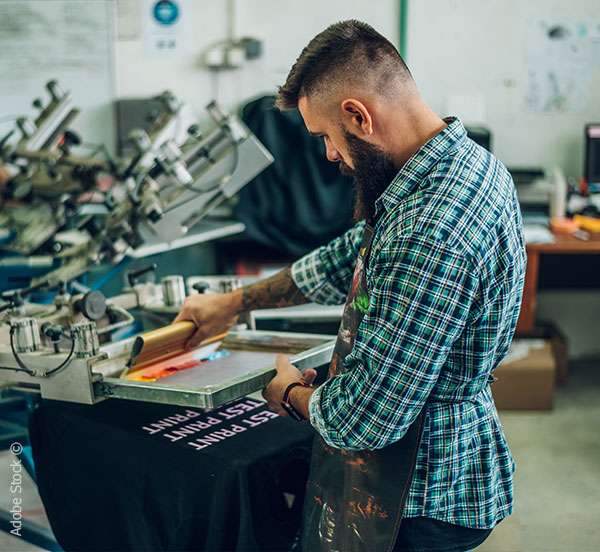 Softshell personalised by transfer
Luckily, there are special techniques to overcome this: an extra layer is added while the personalisation is being carried out and acts as a barrier between the marking and the garment. This protects the textile and the colours of the motif applied for a clean and bright finish. This process is a type of transfer and remains the most attractive marking method for personalising softshell, whether for a sports club or to give to company employees.
Softshell personalised by embroidery
There is another technique for personalising softshell: embroidery. More expensive, it is also harder wearing and more durable. It allows you to personalise jackets for tradesmen or employees in the construction sector, for example.
To use this technique, the fabric needs to be sufficiently thick (at least 220 g/m², although this is almost always the case for softshell jackets) and the logo or motif should not contain too many small details, which would not be properly replicated with embroidered thread.
Transfer personalisation
Embroidery personalisation
Features

Requires the addition of a protective layer to avoid the risk of bleeding

All types of motifs

Possible on a thickness of 220 g/m²

For motifs with few details

Price
++


Sliding scale for large quantities



+++


High



Durability
++


Good if looked after properly



+++


Excellent



As you will have understood from reading this article, softshell jackets are technical, which makes them more expensive than classic garments. On the other hand, we have seen that they offer a number of benefits that justify this investment:
A single 3 in 1 garment that adapts to changing weather conditions (even more so in the mountains or in spring, for example)
Versatile styles, with a hood or sleeves that can be removed
The option of padded lining for added warmth
More innovations in terms of sustainable (recycled polyester) and technical features (high visibility, enhancements, etc.).
A smooth surface ideal for personalisation
For all these reasons and more softshell garments are becoming increasingly popular with professionals and sports enthusiasts alike and their design is compatible with the environmental goals and expectations of customers: eco-friendly materials, high visibility technology, different degrees of insulation and waterproofing, new colourways… There is no doubt that softshell fabric is, and will remain in constant evolution, to offer styles that are increasingly technical and high performance.
Kariban, Dickies, Result, Russell, Puma Workwear… visit our softshell pages to find the ideal style and offer your chosen garment to your customers.