Let's take a closer look at a piece of clothing that has been a staple of the workwear and fashion worlds for some years now: the bodywarmer.
This sleeveless jacket offers optimum freedom of movement, while its lightweight construction keeps the body warm without sacrificing comfort.
For all these advantages, the bodywarmer has long been considered a professional garment above all else. Gardeners, greengrocers, warehousemen, craftsmen of all kinds and building and civil engineering professionals: trades where ease of movement is as important as thermal insulation have been quick to adopt professional bodywarmers.
What's more, over time, manufacturers have improved the materials and technologies they use, offering even better-performing and more aesthetically pleasing products.
Pleasant to wear, neither too warm nor too light … not surprisingly, the bodywarmer has also easily found its place among outdoor sports enthusiasts.
Hiking, riding, football, golf … in short, all outdoor sports, whether individual or team, lend themselves to the use of these sleeveless jackets.
Then, little by little, streetwear and casual sport trends invaded the streets, and the bodywarmer proved to be a favourited item, even for 'everyday' fashion. Once again, it's its versatility, the many possible combinations and the diversity of materials, colours and styles that have won over a much wider target audience.
Let's take a closer look at the strengths of bodywarmers, how to choose them, and what's on offer on the TopTex website!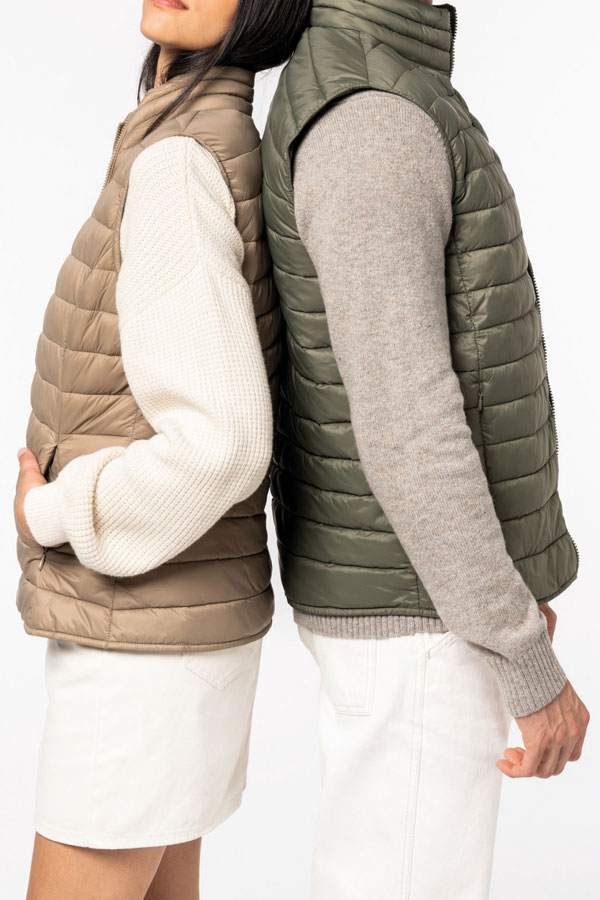 3 reasons to think about bodywarmers
They are comfortable and practical
The unique characteristics of bodywarmers make them particularly suitable for people working in difficult conditions (physical, outdoors, etc.). For example, in logistics, industry, construction and agriculture, where workers carry heavy loads, move around a lot, perform repetitive movements, and, most significantly, all year round!
That's why sleeveless jackets are so attractive: they're lightweight and not restrictive, giving you optimum freedom of movement, especially during physically demanding tasks. Workers can move around easily, while staying warm.
Naturally, given the popularity of this multi-purpose piece among professionals, some styles have been adapted for use by workers, for even greater comfort and practicality. The CGJUC40 from B&c is a perfect example of a practical AND comfortable professional bodywarmer, with multiple pockets (hand-warmer, phone pocket and pen holder), full zip fastening with chin strap, and a wide cut for even greater comfort.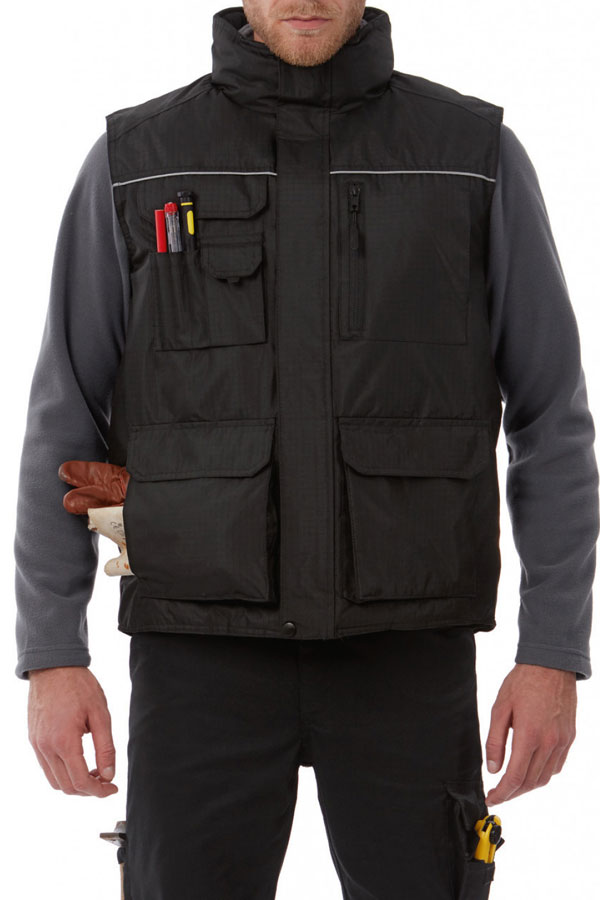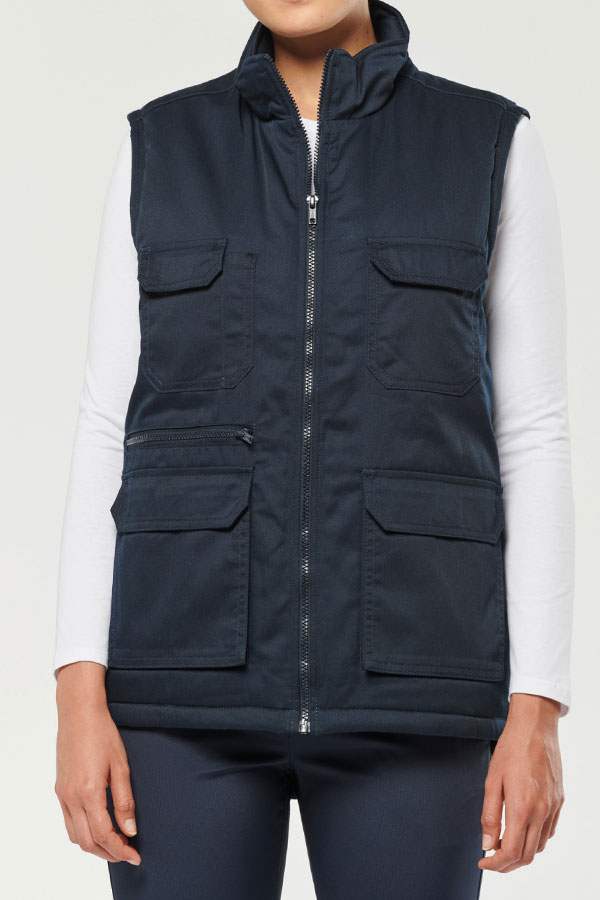 They protect against the elements
The bodywarmer may be renowned for its lightness, but it is nonetheless an excellent thermal insulator, providing protection from the cold and bad weather.
Depending on the material and thickness, it can be easily adapted to all kinds of situations.
Because even though it leaves the arms free, the bodywarmer completely covers the chest, an area that is particularly sensitive to the cold. Over a jumper, under a warmer jacket, with a fleece lining, padded, quilted… in short, the bodywarmer offers a multitude of options!
For example, a lightweight , close-fitting bodywarmer is easy to layer with other garments, providing extra warmth without bulk.
For the colder months, or to equip warehouse clerks who work in cold storage, a thick bodywarmer is preferable. WK. Designed To Work offers the WK607 model in polycotton and padded for extra warmth. What's more, it's unisex and available in 10 colours to suit a wide range of visual identities.
Waterproof, windproof… depending on the environment and the time of year, the objectives, and therefore the characteristics, of the bodywarmer will not be the same! Remember to use our "Season" or "Lining" filters to select models that are warmer or cooler.
They're fashionable and stylish
As we mentioned earlier … bodywarmers, also known as sleeveless down jackets or sleeveless jackets, have now found their way into the ready-to-wear sector.
In mid-season, over a shirt or sweatshirt, a colourful bodywarmer with a light down-effect padding will give ladies and men alike a relaxed, urban style.
NS6006 – Native Spirit ladies' lightweight recycled bodywarmer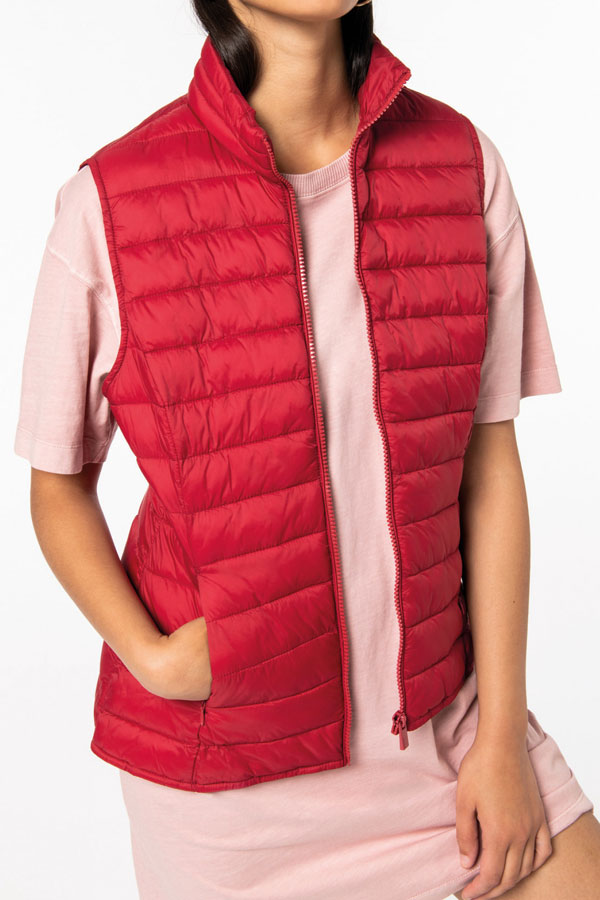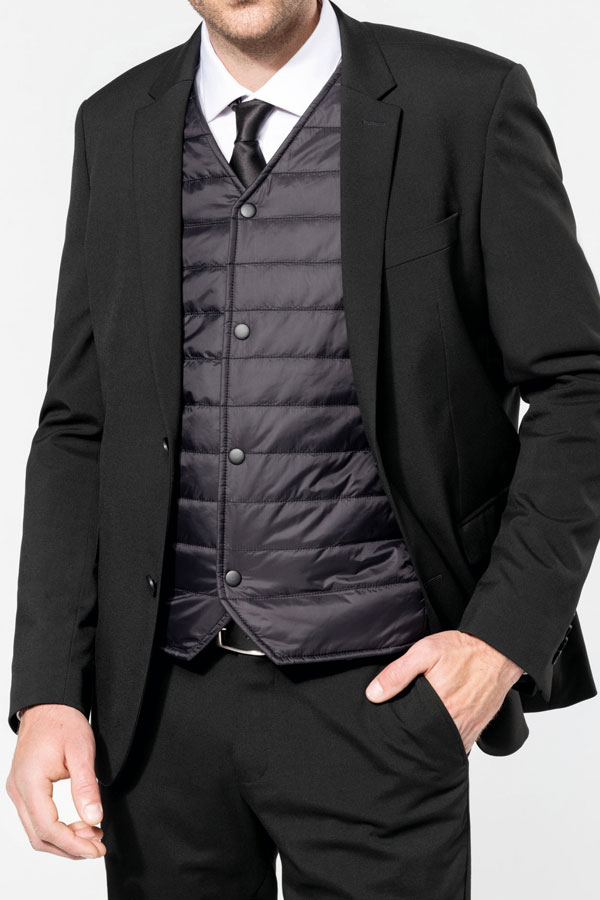 For cooler seasons, the bodywarmer looks great under a smart trench coat or even a suit jacket. An extra layer of thermal protection that's both modern and discreet. It's the perfect choice for estate agents or sales staff, who often work outdoors and appreciate a clean, simple look.
Bodywarmer: the perfect garment for personalisation
As you can see, with all the advantages and possibilities it offers, the bodywarmer is undeniably one of the 'Premium' workwear items.
It is an ultra-versatile garment that can be worn for most of the year, in a professional setting… but that's not all! It's an investment that will make all the difference to company employees, who will appreciate the comfort and practicality of a sleeveless jacket that they can also use at home if they wish.
Above all, one of the great advantages of the bodywarmer that we haven't yet mentioned is that it provides the perfect surface for customisation.
And the technique most often used and recommended for these pieces is embroidery! Hard-wearing and elegant, it is often used to embroider a brand logo, sports club crest or the name of a sales consultant on a bodywarmer. Be careful, however: small details that are too precise may not be suitable for this technique, just as extremely fine fabrics will not allow you to sew through them without risking tearing the garment.
One of the big advantages of embroidery is its resistance over time, including to washing. This is essential for textiles that are cleaned regularly, industrially and at high temperatures (60°C and above).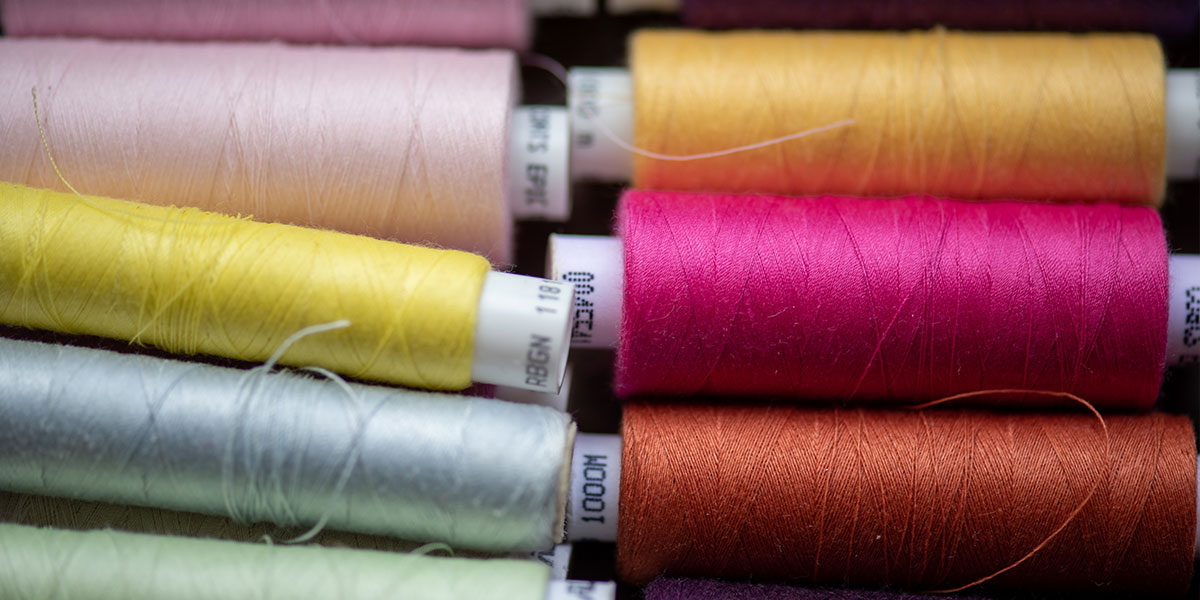 For a more modest budget, screen printing is an excellent solution: it allows you to flock bright colours and precise details. Perfect for sales advisers in a decorating shop, who won't get their bodywarmer very dirty, so they'll be able to wash it less often. What's more, as this garment is not worn directly on the skin, it generally has little contact with perspiration. Washing at regular intervals will preserve the marking for much longer.
TopTex tip
Several techniques can be combined to personalise a bodywarmer. Take the example of a DIY shop: the brand's logo can be embroidered on the front and the back can be flocked with the phrase "at your service". The added bonus? Sleeveless vests in bright colours, so that the advisers are easy for customers to spot in the aisles.
For bodywarmers in darker colours, or to apply more colourful and delicate patterns, consider one of the latest marking techniques: DTF, or Direct To Film printing. A thermo-fusible powder and hot pressing will help to fix the design previously applied using PET film. A more time-consuming process than simple screen-printing or digital transfer, but an excellent choice if quality and respect for the environment are your key concerns.
Are you interested in this subject? We'll tell you a bit more in our article on marking techniques and their specific features.
The main types of customisable bodywarmers to provide some inspiration
Need help making your choice? Here are the three main types of bodywarmers and a few examples of styles you can find at TopTex.
Lightweight, comfortable bodywarmers
In spring or autumn, for rainy or chilly days, the lightweight bodywarmer is the perfect partner, worn under a waterproof or simply over a long-sleeve t-shirt. In these cases, it's best to choose a lightweight garment, and ideally one made from water-repellent fabric in case of light showers.
Our recommendation: Native Spirit NS6005, made from recycled polyamide. Sober, elegant colours, a storage bag, and inner and outer pockets: in short, a style that's perfect for both ready-to-wear and professional use, with the added bonus of being eco-friendly!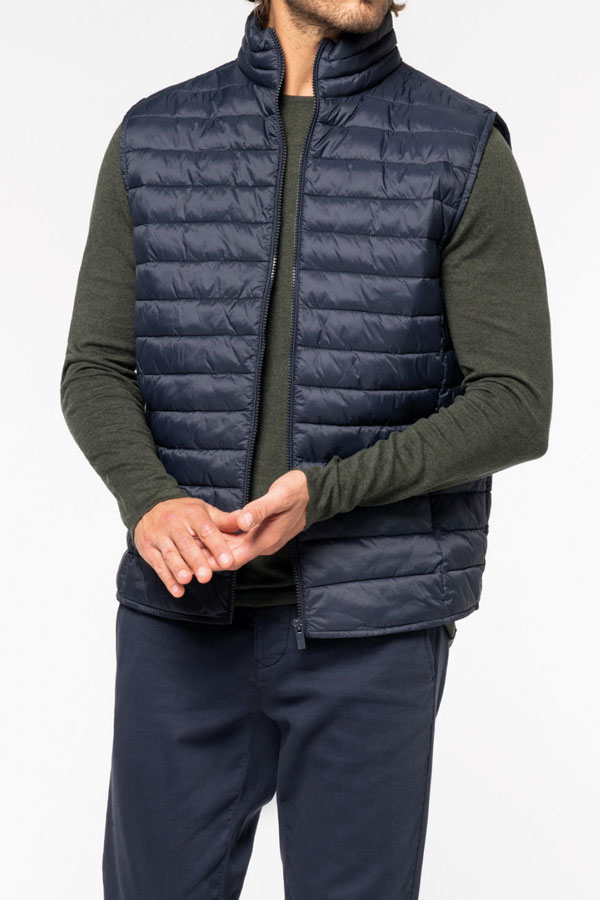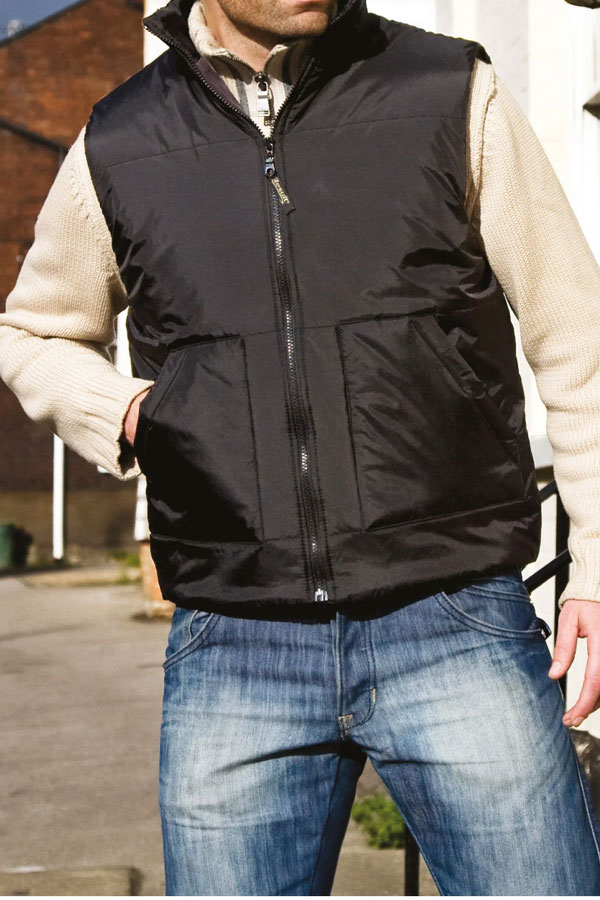 Warm, outdoor bodywarmers
Even if it's a sleeveless jacket, a bodywarmer can really keep you warm. Some styles are windproof and thick, with a fleece lining and quilted high neck collar. This is the true of the R44 bodywarmer from Result, available in black, grey or navy blue.
An ideal choice for sports enthusiasts and professionals who find themselves outdoors in cool temperatures and inclement weather.
Technical bodywarmers, designed for professional or specific use
Of course, bodywarmers are also available in a range of uses.
We've already talked about multi-pocket, tear-proof models for artisans. But what about styles with specific technologies and features, such as the R332X reversible safety bodywarmer from Result. It is hard-wearing, flexible and stretchy to keep you comfortable, while complying with ISO high-visibility standards.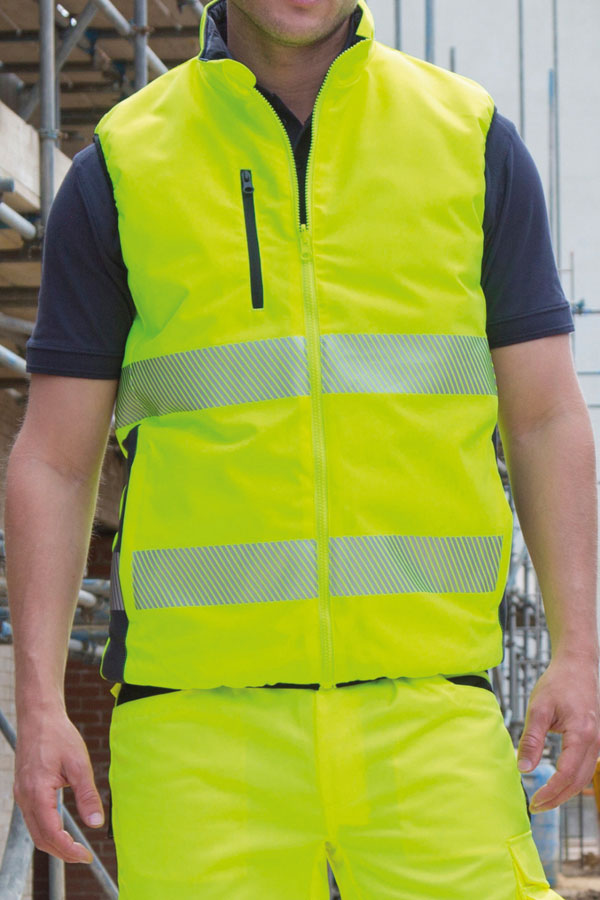 You now have all the information you need to select the best bodywarmer, depending on the work environment or how the garment will be used, the overall budget (including branding) and your customers' expectations.
Don't forget eco-responsible alternatives, made from recycled materials: a powerful argument for your customers looking for THE ideal sleeveless jacket.
Keep an eye on the TopTex range: as the bodywarmer becomes more and more popular, in professional and sports changing rooms and ready-to-wear, our selection just keeps growing. You'll already find items in all the main categories mentioned in this article, whatever the features you're looking for: warm, lightweight, versatile, technical…
Contact our advisers for help in making a pre-selection for your customers!