Annual emissions by the textile industry amount to 1.2 billion tonnes of greenhouse gases.
Raw materials, soils, water: unsound resource management has alarming repercussions for the environment. Not to mention the fact that, in this sector, fundamental workers' rights are not always respected.
This is causing more and more players to sit up and take notice. Producers, brands and distributors are becoming ever more mindful of our role in the shared desire to reduce our environmental impact.
Meanwhile, consumption patterns and expectations are changing among consumers: customers are seeking more sustainable products and, crucially, more transparency from all stakeholders in the textile industry.
This has led to OCS and GOTS certification to ensure that more responsible production, design and distribution processes have been implemented. Finally, these certifications (or labels) are the proof of a real and authentic environmental and societal commitment.
The GOTS and OCS labels are issued by certification bodies and, most importantly: independently and impartially! For TopTex and KARIBAN BRANDS, the French body Ecocert is in charge of certifying that sustainable, traceable and verifiable practices are in place for the products in question.
In this article, we will unpack the above to help you understand the key points of GOTS and OCS certification and where TopTex and KARIBAN BRANDS' stand in the certification process. Happy reading!
Ecocert: an official certification body committed to a sustainable world
The Ecocert story
Ecocert was founded in 1991. A group of scientists, specifically agronomists, had already co-drafted new regulations on Organic Farming for France and Europe. Their commitment to sustainable development and organic farming subsequently led to the creation of an independent company: Ecocert.
A certification body recognised by public authorities and accredited by COFRAC (French Accreditation Committee), Ecocert has spent almost 30 years supporting professionals (farmers, producers, cooperatives, distributors, etc.) looking to create a sustainable world, together.
The role of Ecocert
Ecocert uses official specifications and standards, carefully selected for their positive impact.
By meticulously following test procedures specific to each certification process, Ecocert works alongside textile players to certify that their commitment respects the criteria set out by each label.
Offering diagnosis, strategic guidance, training and advice, Ecocert is a robust partner for companies.
Impartial, independent and 100% reliable certification.
With an international presence in more than 130 countries, Ecocert performs strict testing, auditing the entire chain, from growing the raw materials to distributing the end product. The Ecocert expects perform annual site audits as well as random checks. This long and arduous process offers consumers the guarantee of a certified product.
Why Ecocert?
For TopTex and KARIBAN BRANDS, Ecocert seemed the obvious choice with its pioneering spirit, commitment, strong convictions and location! In fact, their headquarters is located in Toulouse, south-west France, just 20 kilometres or so from the TopTex France offices. This ultimately convinced us to entrust them with guiding us through the certification processes.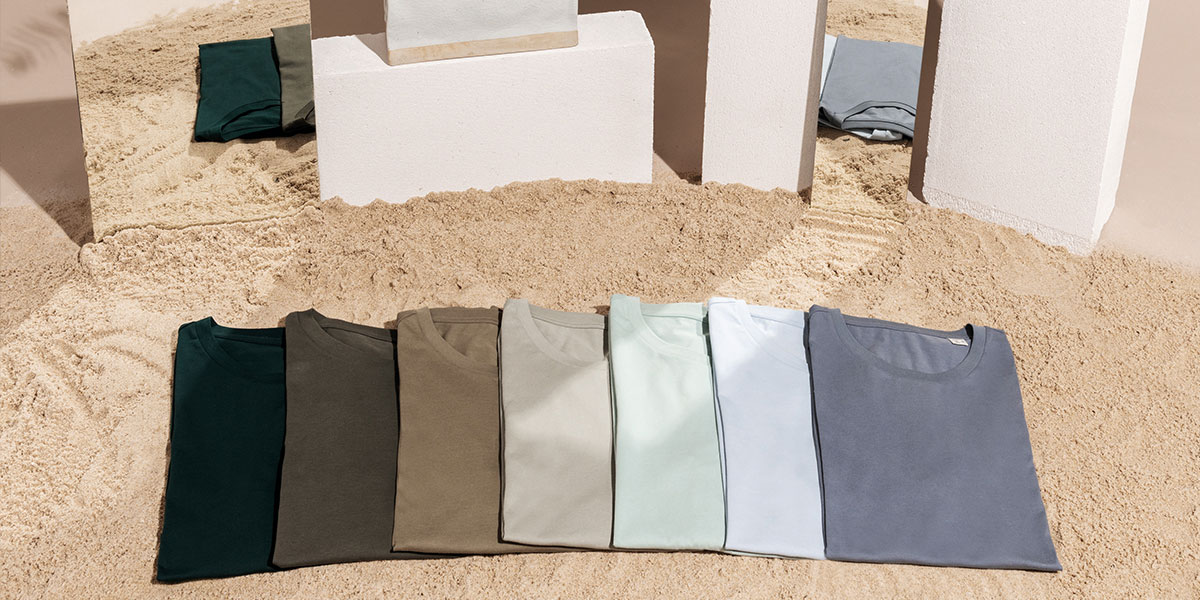 The various certification guaranteed by Ecocert
Ecocert certifies players in the agrifood, timber and forestry, textile and cosmetics industries, based on more than 150 standards. The aim of this certification for brands? To certify and promote their commitment and practices to their partners and customers.
Now let's focus on the certification relevant to us: the OCS and GOTS labels.
What is the aim of OCS certification?
For whom and for what?
OCS (Organic Content Standard) certification applies to all non-food products containing at least 5% organic materials. This certification was developed and is regularly updated by the Textile Exchange organisation which owns the standard.
The main aim?
To allow for the transparent, independent and full traceability of a product's organic raw materials.
How?
By monitoring the source of raw materials through to the finished product, audited and certified by a third party such as Ecocert every step of the way.
It is important to mention that OCS does not certify the raw material itself: it must be independently verified to be recognised as organic.
What does OCS certification guarantee?
The presence and amount of organic fibres in the composition of a product.
Impartial and credible certification for each stage in the chain
The traceability of products, from the farm to the finished product
The commitment of stakeholders (producers, suppliers, distributors, etc.)
Once certified, the items in question can bear the OCS logo which proves their compliance with the requirements of this label. And, depending on the proportion of organic material in the product's final composition (for textiles, we speak of "organic fibres"), there are two levels of OCS certification: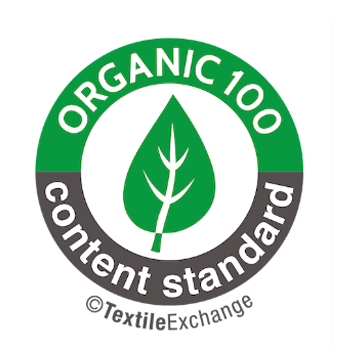 Level 1: OCS 100
The product contains more than 95% certified organic fibres, and fewer than 5% additional fibres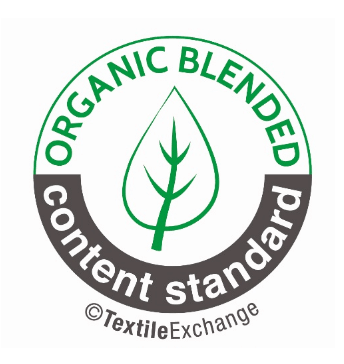 Level 2: OCS blended
The product contains between 5 and 95% certified organic fibres

KEY POINTS
OCS certification ensures the presence, amount and traceability of the organic fibres in the product with the help of an independent certification body.
OCS does not certify the raw material itself
There are two levels of OCS certification depending on whether the finished product contains more or less than 95% organic fibres
For more information, visit the Ecocert site or the Textile Exchange site
What is the aim of GOTS certification?
For whom and for what?
GOTS (Global Organic Textile Standard) certification is currently the most comprehensive certification for a textile item. Its specifications include environmental, chemical and social dimensions as well as a quality requirement. It covers the entire chain, from harvesting the raw materials to labelling the finished product. Textile products made from at least 70% certified organic natural fibres are eligible for GOTS certification.
The main aim?
To guarantee the "organic" qualification of fibres used at every stage (harvesting, manufacturing, packaging, labelling, selling) and certify that "socially responsible and environmentally friendly production processes" are in place.
How?
All stages are audited and checked and must respect strict principles: fibre farming, workers' rights, wastewater management, type of labelling, etc. Even the stages such as weaving, spinning and dyeing are checked by an independent third party body, such as Ecocert.
What does GOTS certification guarantee?
At least 70% certified organic natural fibres
Working conditions and social rights in accordance with the International Labour Organization (ILO) standards

Impartial and credible

certification for each participant in the chain

The absence of inputs harmful to the health of workers and consumers
The certified products may then display the GOTS label which also has two levels:
Level 1: organic textiles with 95 to 100% certified organic fibres
The product contains more than 95% certified organic fibres, and fewer than 5% artificial or synthetic fibres
Level 2: textiles with 70% to 94% certified organic fibres
The product contains more than 70% certified organic fibres, and fewer than 30% non-organic fibres
Of these non-organic fibres, there may be no more than 10% synthetic fibres if the raw materials used are not certified organic, sourced from a sustainable forest management programme or recycled.
KEY POINTS
GOTS certification is targeted at textile players (raw material producers, manufacturers, distributors, brands, etc.) and only covers products made with at least 70% certified organic natural fibres
GOTS certification covers the entire chain, therefore all stakeholders are tested and certified individually, e.g. retailers and distributors. This is the condition for affixing the GOTS label to a product tag.
There are two levels of GOTS certification, depending on whether the finished product contains more or less than 94% organic fibres.
For more information, visit the Ecocert site or the Textile Exchange site
OCS and GOTS labels and in-conversion cotton
We have already posted an article on in-conversion cotton which you can view if the topic interests you, however it is important that we discuss it here.
The OCS and GOTS labels encourage, recognise and consider natural fibres in the process of organic conversion. This is good news as we know that supporting farms transitioning to organic farming is a way of assisting in the implementation of reasonable and sustainable agricultural practices.
The difference with certified organic cotton is that, as long as the fibres are not certified organic, the concept of "conversion" must be specified on the labels, as in the example opposite of a GOTS label relating to in-conversion organic fibres.
TopTex and KARIBAN BRANDS: working together for tomorrow's world
A KARIBAN BRANDS initiative
As part of a global commitment strategy, KARIBAN BRANDS wished to expand its sustainable initiatives, from production through to the sale of its products. An opportunity to promote its approaches while offering transparency to its customers and end consumers.
And so the KARIBAN BRANDS teams, with support and guidance from Ecocert, have chosen to submit some of their products for one or more forms of certification.
To take the examples explored in this article, therefore the OCS and GOTS labels: KARIBAN BRANDS has certified some of its items while the the requirements set out by the label standards have been verified and certified by Ecocert. As seen above, the products in question are regularly re-checked, sometimes randomly, to ensure that the GOTS and OCS standards have been maintained.
An approach supported by TopTex.
For each product with the GOTS or OCS label, TopTex, as distributor of KARIBAN BRANDS (and therefore one of the links in the chain), also required individual certification.
Therefore, each participant in a GOTS or OCS certification process has their own certificate, personalised with a unique licence number based on their role in the product cycle. This is the case for TopTex and KARIBAN BRANDS!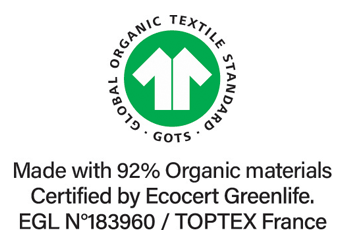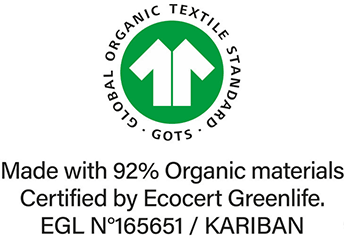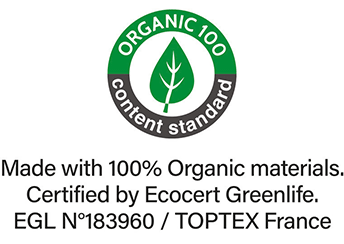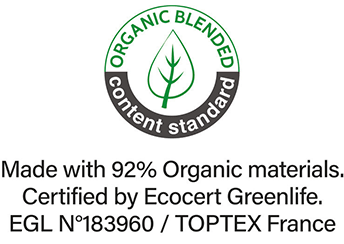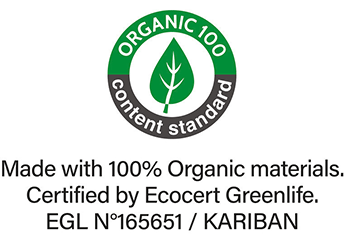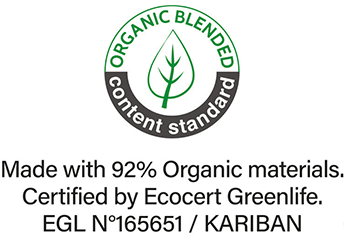 To see the items with GOTS or OCS certification on our site, visit one of the sections (Clothing, Luggage, Workwear, Sports, etc.), then apply the "Organic" filter to display the GOTS, OCS 100 or OCS Blended products!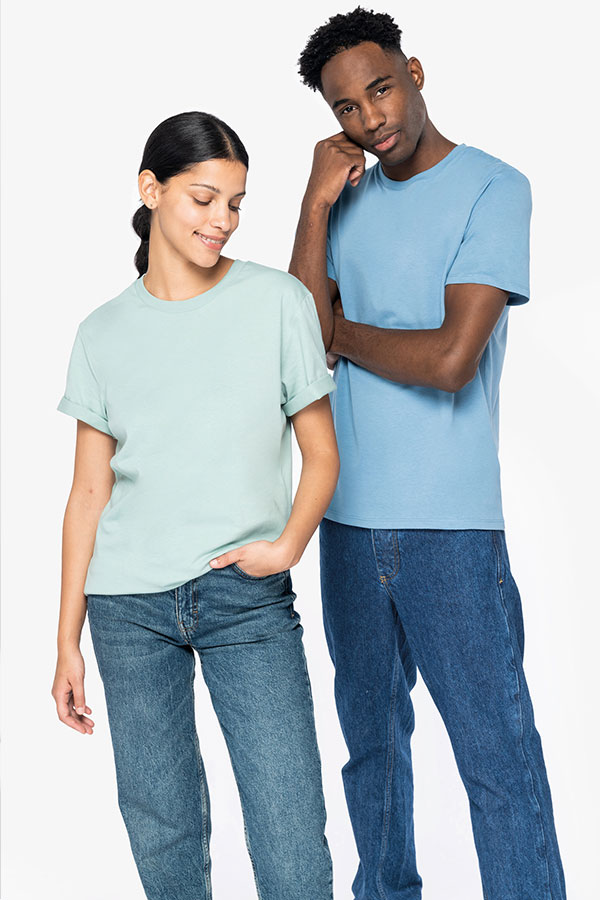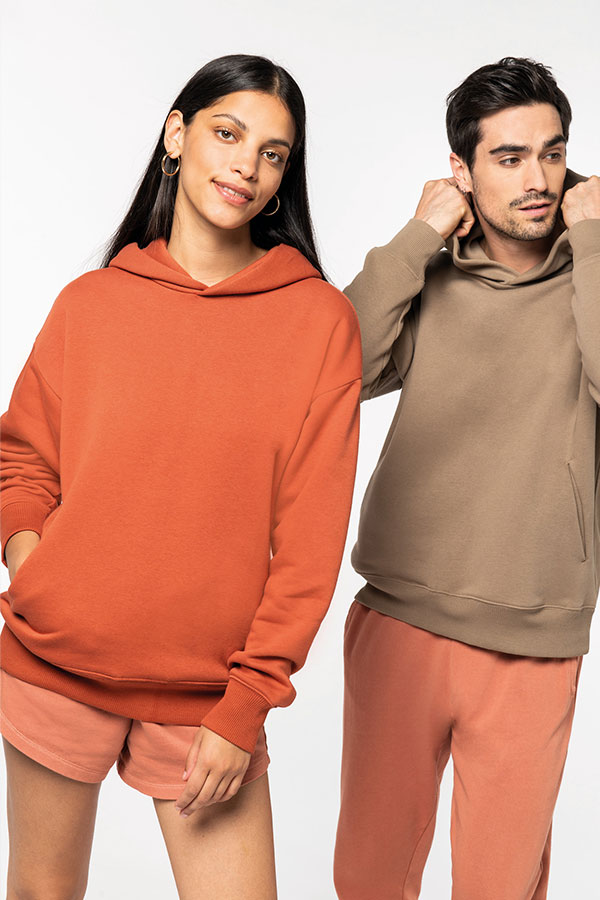 NS408
Sweat capuche oversize unisexe - 300g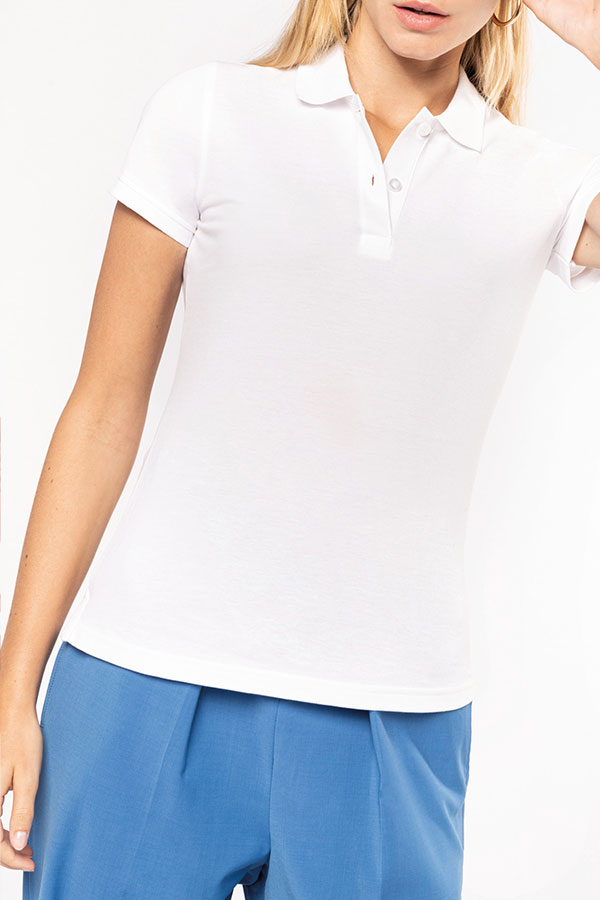 K2026
Ladies' Organic 180 piqué polo shirt
As a textile distributor, we thought it essential to offer responsible alternatives, if possible organically produced, as "a credible long-term response to the economic, ecological and social challenges of global agriculture" according to Ecocert.
We continue to update our catalogue with our audited and certified KARIBAN BRANDS items to bring you quality and transparency in our eco-friendly selection.
As we look at the future of TopTex and KARIBAN BRANDS, it is our desire to continue our conscious development by considering the environmental and social challenges as the foundations of a sustainable world.