As Christmas approaches, with all its festive excitement, twinkling lights and special atmosphere, one tradition lives on: exchanging gifts.
Also in the business world, the end-of-year festivities are a warm and opportune time to express gratitude, strengthen ties and show appreciation by giving carefully chosen presents.
The extra touch for gifts with even more impact: personalisation!
Customers, employees, suppliers, business partners… at TopTex, we want to help you celebrate Christmas in style, by offering you a selection of items and designs for the occasion.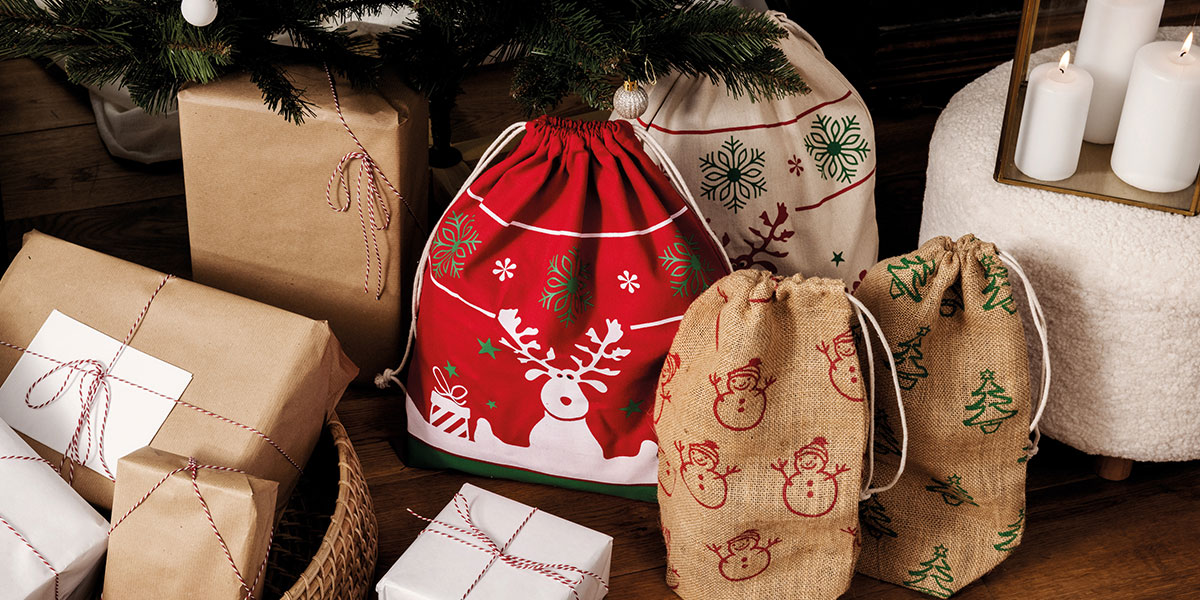 For us, Christmas is an opportunity to spread joy while working on brand image, customer loyalty andteam spirit.
How? By thanking company employees with jumpers embroidered with their names, or by offering your best customers original Christmas socks. There are thousands of ways to make people happy and this article is designed to inspire you.
As you know, at TopTex we take great care in the services we provide to our customers : a wide choice of products, special collections, product quality, on-time delivery, order tracking and after-sales service – nothing is left to chance to help you prepare for Christmas efficiently and easily.
Discover some examples, ideas, star products and must-haves to get you started in this season of generosity and sharing.
Assert your brand identity and stimulate your teams with festive uniforms 
Throughout the year, employees are the lifeblood of a company: they serve customers, make sure everyone goes away satisfied and help develop asolid brand image …so Christmas is the perfect time to thank them for their day-to-day commitment!
For example, by offering them an outfit personalised with their name, the company logo… and, why not, a seasonal print! They're bound to be up for some festive fun and will appreciate the personal touch, which conveys a feeling of thoughtfulness that is key in the world of work. 
One of the great classics: a timeless Christmas jumper, of course! Wear it to acompany Christmas party or end-of-year meal. It's a great way to add warmth and good humour, as well as a lasting memory for employees.
Whether it's a grocery shop, a family-run hotel or a university student union, the Christmas jumper will delight employees and customers alike!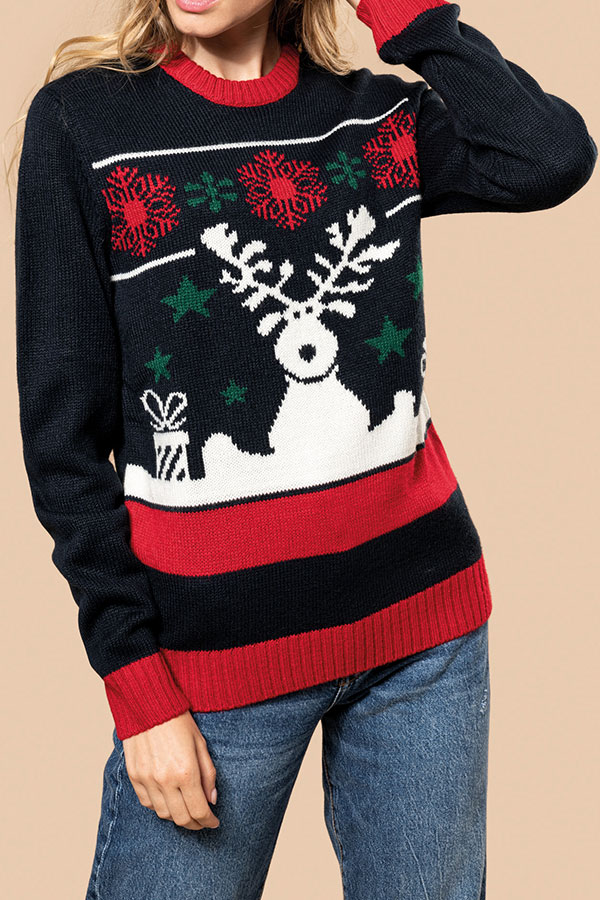 K9010
Unisex crew neck Christmas jumper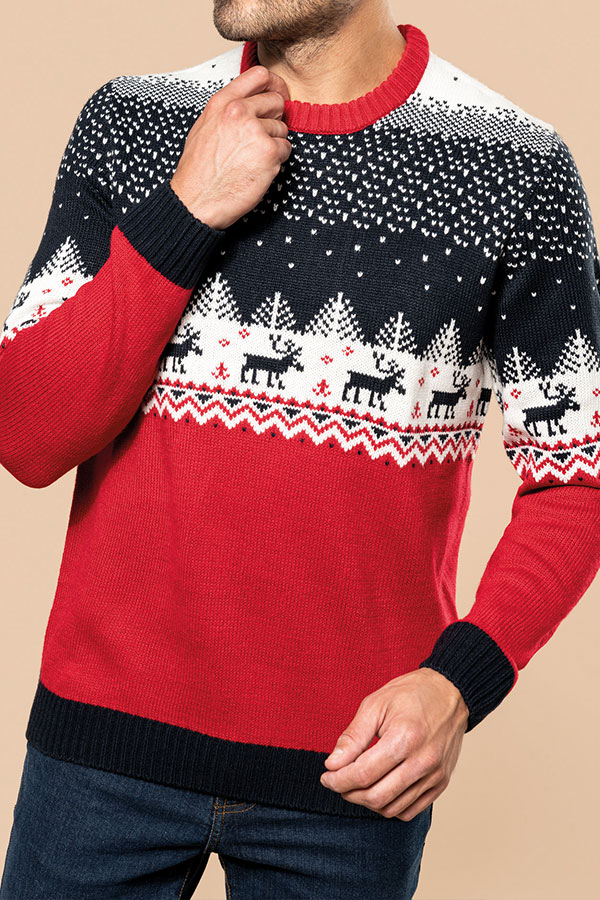 K9011
Unisex crew neck Christmas jumper
TopTex tip
Unisex jumpers are a great option. Available in sizes XS to 3XL, they can be worn loose and adapt to a wide range of body shapes.
Embroider your staff's initials on it for a memorable souvenir.
Strengthen ties with your partners through original Christmas gifts 
Still in the category of end-of-year gifts, in addition to employees, this is also the ideal time to thank your business partners.
Important customers, long-standing suppliers, administrative, logistics and accounting service providers … the list can vary depending on the sector of activity, but offering gifts to those who are part of the life of a company is always a powerful gesture.
It's a chance to make a lasting impression, to give someone something to look forward to, and to take the time to spread joy at what is a busy time of year.
A personalised, comfortable 100% cotton bathrobe, an apron with pocket available in 32 colourways or a soft fleece blanket … there's no shortage of ideas for showing your gratitude to a key partner.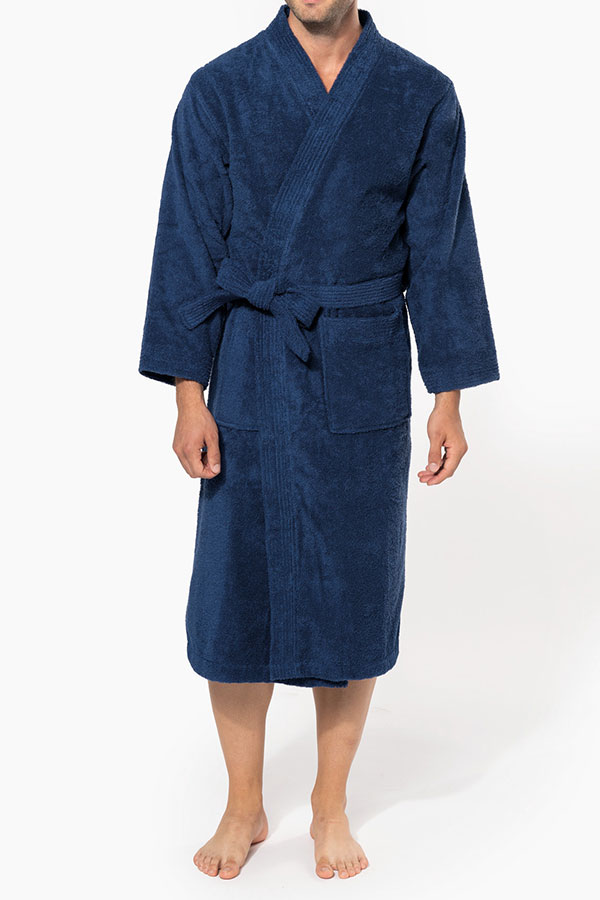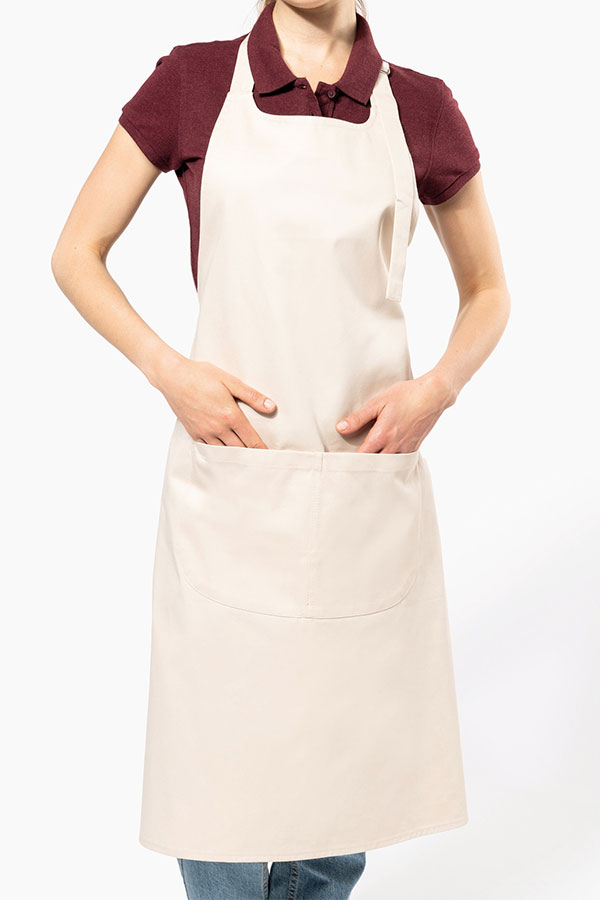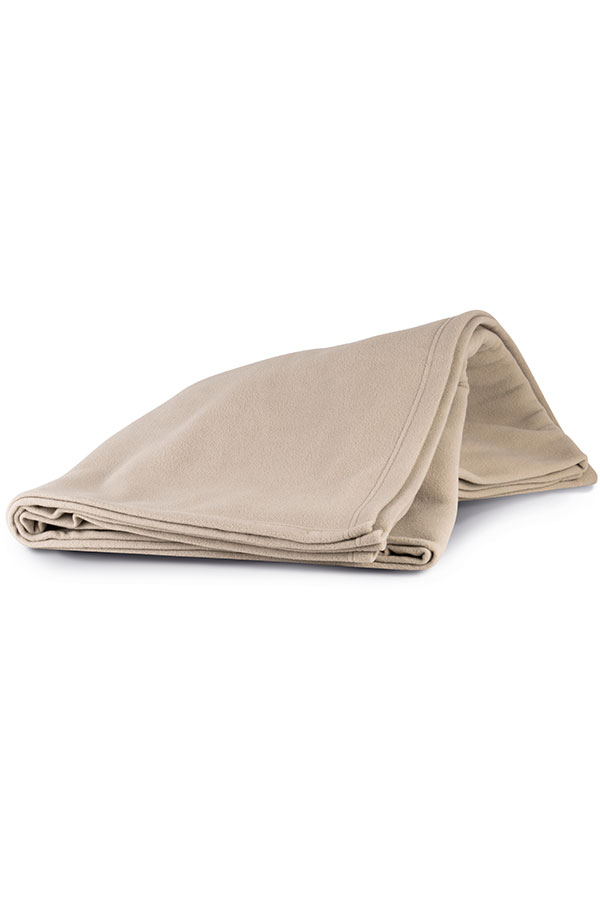 TopTex tip
A comfortable, hygge feel is bound to be a good idea in winter, and it's the premium style of a gift that can really make the difference!
Grab your customers' attention with on-trend, seasonal items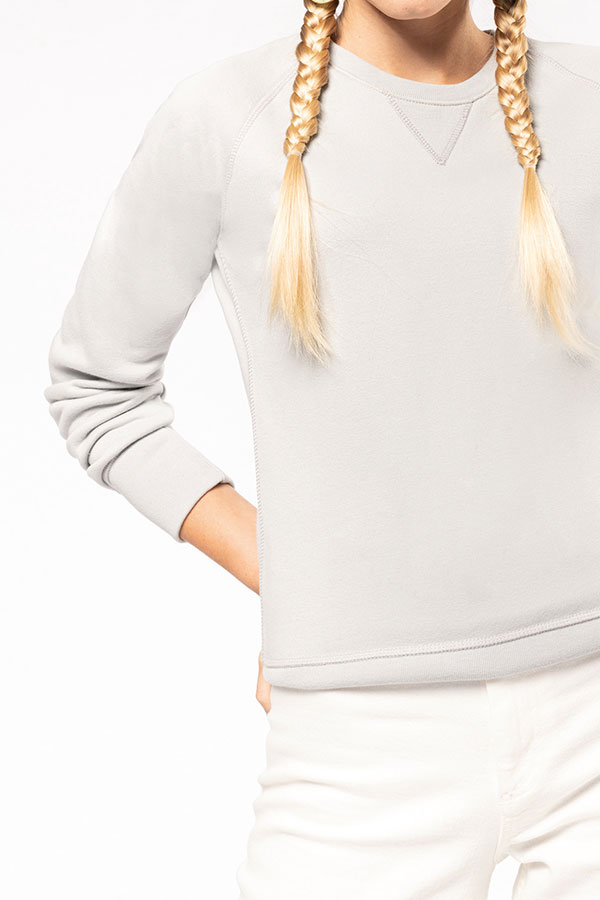 Cultivating thespirit ofChristmas means payingtribute to a tradition that is so important to so many people. As Christmas lights fill the streets, shop windows are also decorated with items specially designed for the occasion.
From ready-to-wear boutiques to home decoration shops and Christmas markets, every shop is keen to prepare for the Christmas period with seasonal accessories and clothing.
This can be an opportunity to create a limited edition capsule collection to attract new visitors to a shop. A pretty motif subtly embroidered on a sweatshirt, like a snowflake for example, for a discreet nod to Christmas.
An idea worth suggesting to your customers? More and more people are wrapping their gifts in reusable fabrics. A drawstring bag, decorated with Christmas motifs, would be perfect as packaging with a second life, not to mention looking great under the tree! And why not offer it for purchases over a certain amount?
Adding the brand logo makes it a useful and memorable goodie. Perfect for combining branding and customer experience.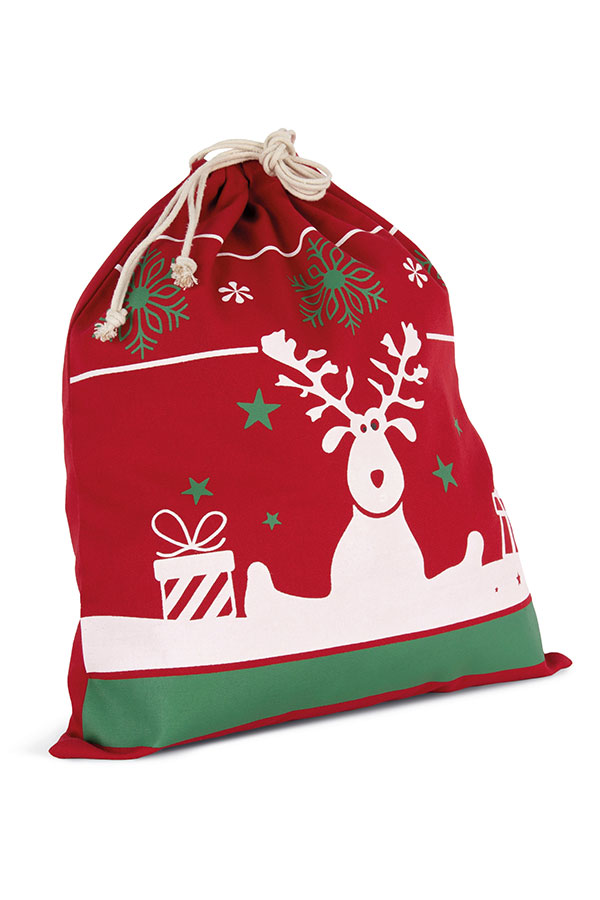 KI0735
Drawstring bag with Christmas patterns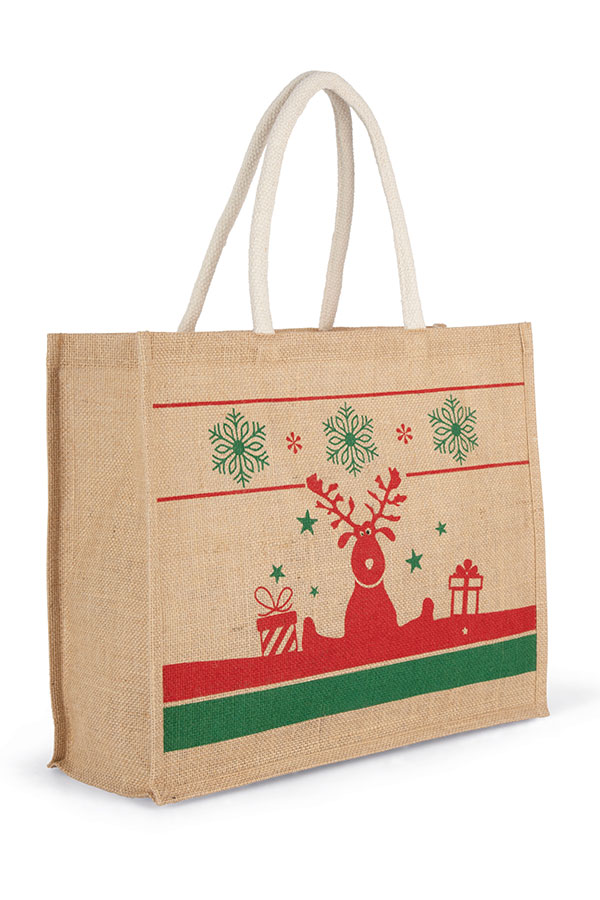 KI0736
Shopping bag with Christmas patterns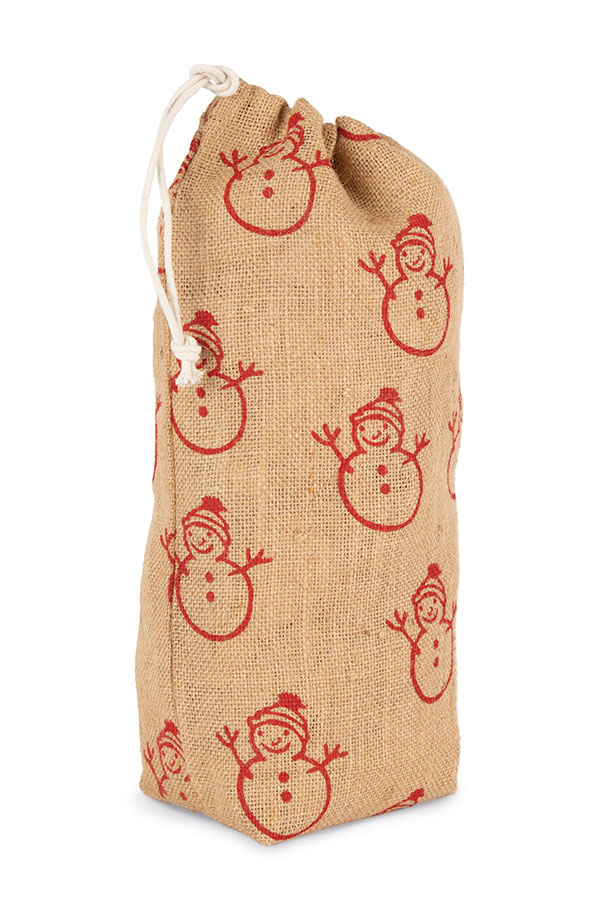 KI0726
Bottle carrier with Christmas patterns
TopTex tip
Limited editions are always popular: a sense of urgency, limited stocks, seasonal design, etc. Customers are sensitive to new and exclusive things, so it's the perfect opportunity to stimulate sales and create a bond with your target customers.
Spread joy and inspiration with personalised Christmas gifts 
One end-of-year event that is becoming increasinglypopular is Secret Santa! And with good reason: it encourages exchanges between employees who are not used to working directly together, forges links and strengthens relationships. The principle is simple: each member of staff picks a name at random and gives that person a small gift. Gifts are usually exchanged at an end-of-year meal or a special event organised for the occasion.
Once again, this could be the time to surprise your teams with a more personal gift!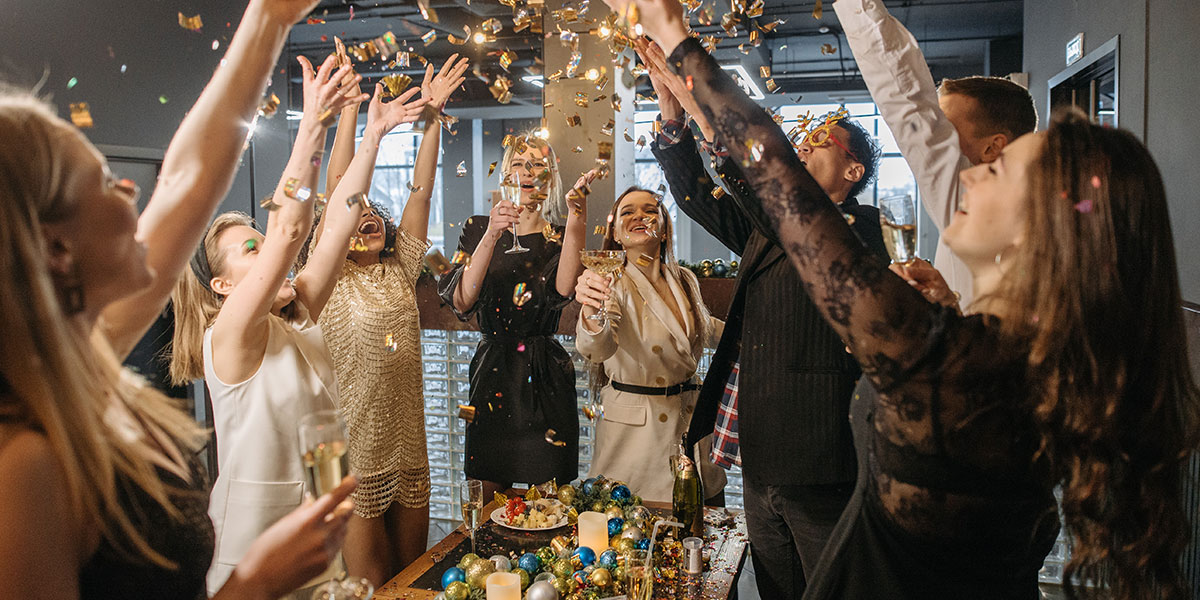 We mentioned clothes to wear in the workplace over the festive period, but why not give them items that can be reused at any time? We recommend checking out the Luggage category:
Travel cases, laptop bags, carry-on bags… a huge choice to suit all tastes and budgets. Here are a few suggestions to help you choose:
TopTex tip
Offering useful gifts screen-printed with a company's name or colours is a real strategic choice: even outside the workplace, employees will keep the brand alive. On holiday or at the weekend, your logo will be visible, helping to raise brand awareness.
Use themed design and personalisation to tell a story
We're talking about personalisation because we're convinced that it's what adds real value to a gift. It's the detail that surprises, makes you smile or catches your eye when you open your present.
Of course, there are the most obvious markings, such as a company logo, a first name, a slogan, a catchphrase…
But it can also be an opportunity to get a message across: a commitment, a key date, a specific event …
For example, announcing a partnership, a company's 10th anniversary, a birth date, the date of a sports club's victory, or highlighting voluntary work with an association.
And even if there's no special event, the Christmas period is a great opportunity to let your imagination run riot.
In any case, end-of-year gifts that you take the time to personalise create a real emotional connection and have a powerful impact on how a brand is perceived. It's an object that the recipient will enjoy (re)discovering over time, that will evoke memories, in both a professional and personal context. 
To inspire you, we've come up with modern or traditional designs, some classic and some more original … so you can get plenty of ideas and offer your customers inspiring options.
One thing's for sure: in the TopTex selection you'll find items for the general public,such as tote bags, bibs, aprons and hats, as well as items perfect for end-of-year business gifts (jumpers, t-shirts, etc.).
So whether you're talking to shops, fashion boutiques, businesses, sports associations or events professionals, you're bound to find the perfect gift!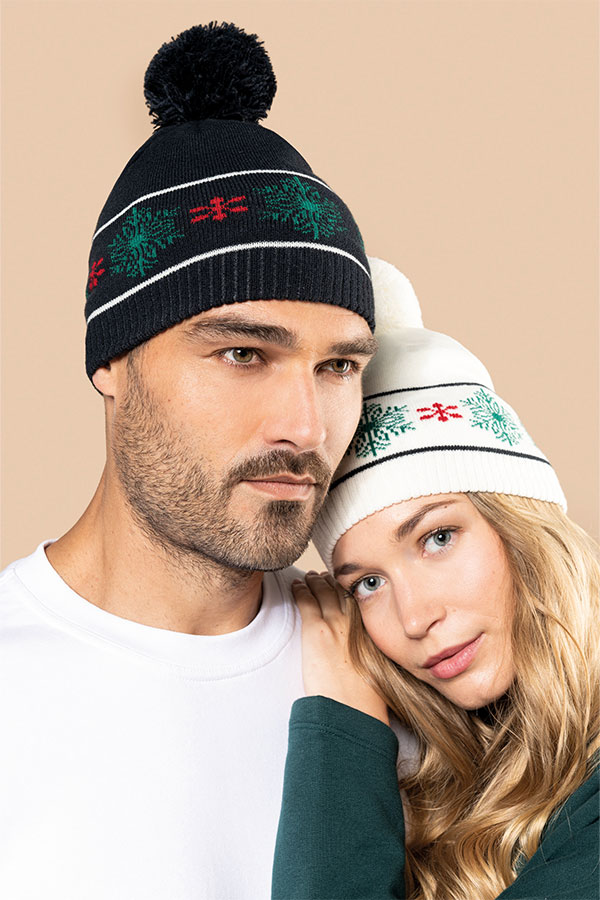 To spread joy, thank, reward, attract attention or congratulate… the Christmas period is an opportunity to shower attention on partners, employees, customers, family and friends.
A kitsch Christmas jumper, a soberly decorated shirt, an embroidered briefcase, a screen-printed travel bag … there's no shortage of ideas !
Looking for even more inspiration? Check out our suggested designs and markings right here: